SERVICICIO DE CHAPA DE ORO A HERRAJE GILDED LURE
La chapa de oro es un baño que se hace a piezas de metal. Que si bien, es más resistente que el dorado normal que se aplica en herrajes, hay que tener cuidados especiales para que sea mas duradero. 
En algunas ocasiones, es posible que las piezas chapeadas en oro pierdan su acabado dorado y se despinten. Esto puede ocurrir por varias razones, incluyendo el uso diario, alcalinidad en PHs elevados, la exposición a productos químicos como perfumes y el contacto con el agua.
 Al igual que con piezas de joyería, con herrajes chapeados en oro, hay que tomar las mismas precauciones.
 Para ayudarte a mantener tus piezas chapeadas en oro en su mejor estado, ofrecemos nuestro nuevo servicio de chapa de oro. Este servicio te permite actualizar y restaurar el acabado dorado de tus piezas, dándoles un aspecto fresco y nuevo.
Te dejamos una lista de recomendaciones que puedes hacer para ayudar a mantener tus piezas brillantes y en el mejor estado.
1. Evita el contacto con el herraje si tienes cremas puestas.
2. Procura abrir la bolsa por su perfil. 
3. Almacena tu producto en su funda de tela.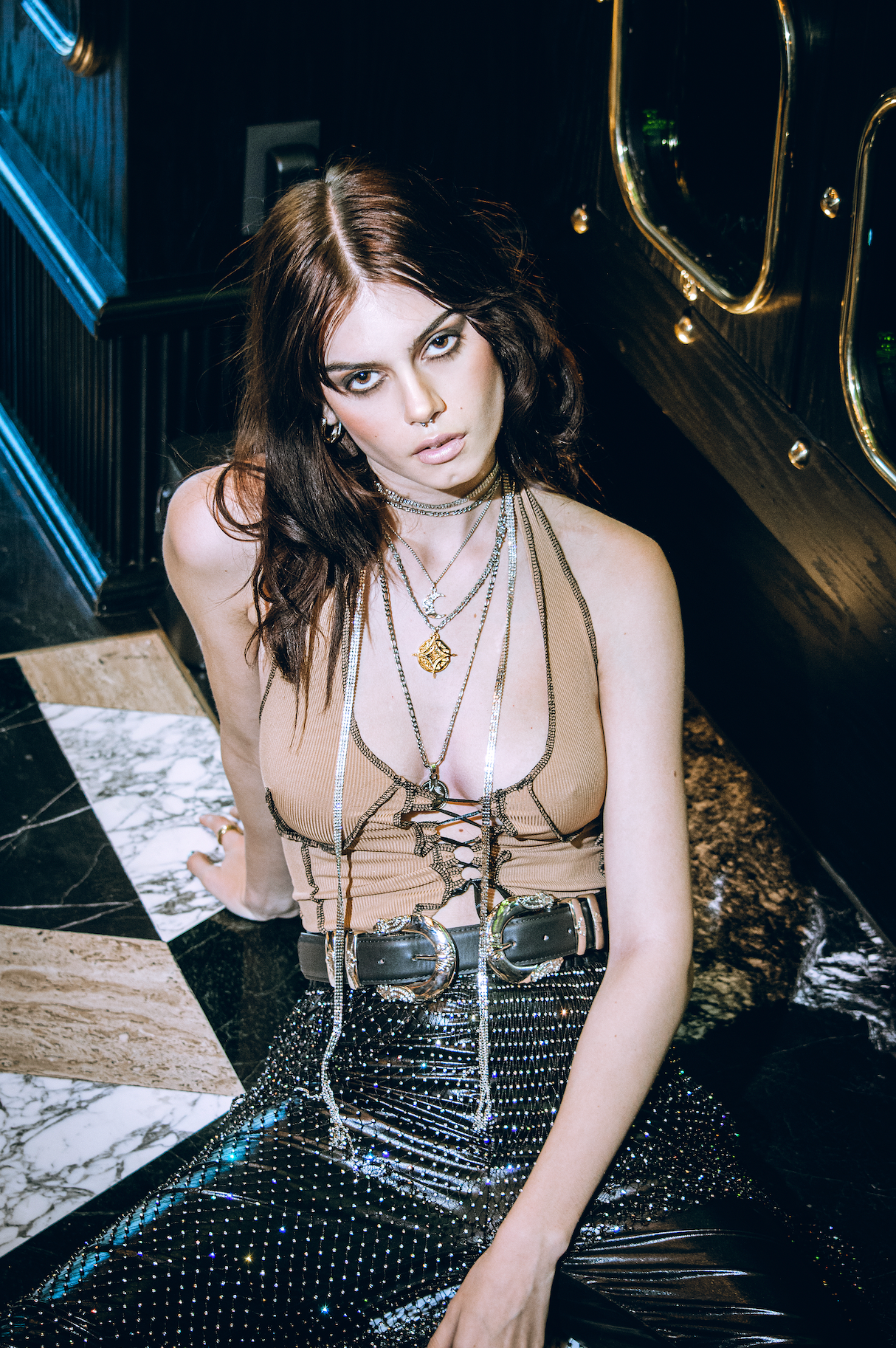 indigolush
about the brand
We create premium leather accessories for women that are inspired by cultures with a rich heritage of magic and mysticism. The pieces are designed and produced with small local factories in Guadalajara, Jalisco, ensuring high quality and less material waste.
Our brand philosophy is centered around empowering women to embrace their creativity and individuality. We believe in the power of body adornment rituals as a way to express oneself and reflect the personality of the soul. Our pieces are not just accessories, but talismans that reflect one's inner magic and provide protection to the wearer.
Indigolush draws inspiration from magical motifs and symbols throughout history, creating bold and visually stunning accessories that elevate the senses. The pieces are infused with glam rock vibes and a bohemian spirit, making them a perfect fit for the modern mystic.
The materials used by Indigolush are carefully selected to enhance the magical feel of their pieces.
While metal reflects strength and boldness, leather being a bio product source that will prevail, reflects durability and authenticity.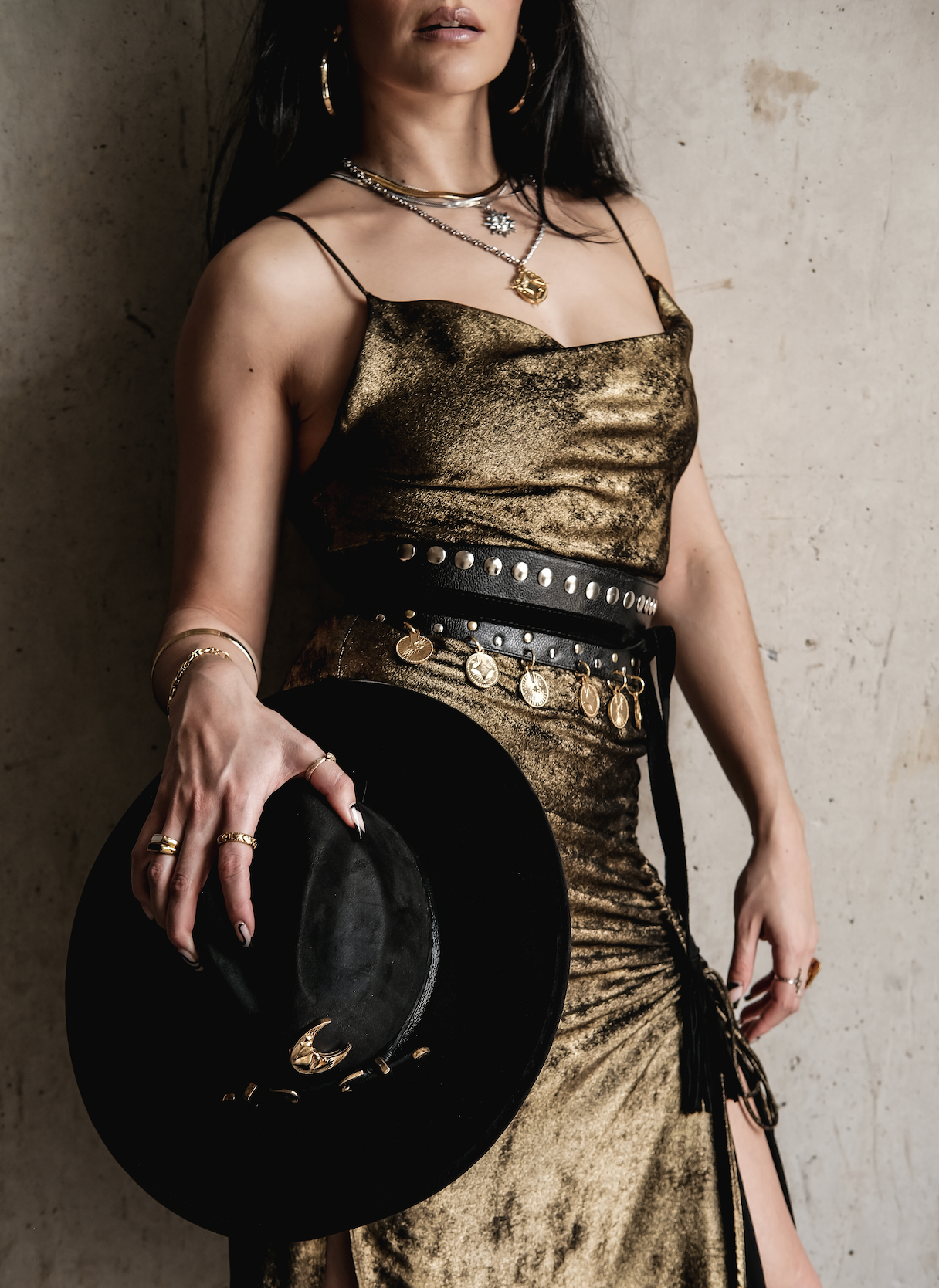 mariana vera
about the creator
I am passionate about creating pieces that embody a unique blend of sensuality, edginess, and occult mystery.
With a background in graphic design, dance, performance, and love for architecture, I bring a diverse range of influences to my work. This allows me to create jewelry and accessories that are not only beautiful, but also packed with meaning and significance.
For me, fashion is not just about looking good - it's about feeling empowered, inspired, and connected to a larger world of ideas and experiences. That's why I tap into the esoteric and the unknown - incorporating symbols, ancient motifs, and occult themes into my designs.
Whether you're looking for a statement piece to complete your outfit or you're seeking an accessory that can help you tap into your own inner power, Indigolush is the destination for all things witchy, mysterious, sensual, and edgy.
So come along on this journey with me - and let the lush in!
INDIGOLUSH IS A BRAND THAT EMBODIES THE BEAUTY AND MAGIC OF MODERN MYSTICISM WITH A BOHEMIAN SPIRIT.